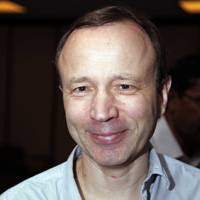 Frédéric Paycha, French Nuclear Medicine Specialist, Associate Professor (MCU-PH), has been appointed in the Department of Nuclear Medicine of Hospital Lariboisière, Assistance Publique-Hôpitaux de Paris, France, since 2010.
Dr. Paycha teaches bone scintigraphy within the framework of DES-Specialized Clinical Courses in Nuclear Medicine, mandatory for French and foreign French-speaking Nuclear Medicine residents, at the Institut National des Sciences et Techniques Nucléaires - INSTN (French National Institute of Nuclear Science and Techniques) of Saclay, France, each year since 2001.
He is responsible for the CME workshops dedicated to bone scintigraphy scheduled in the French congresses of Nuclear Medicine (French language) every year since 2007. Dr. Paycha led and organized two off-congress CME workshops under the auspices of the French Association of Nuclear medicine and Molecular Imaging (Société Française de Médecine Nucléaire & Imagerie Moléculaire - SFMN) on bone scintigraphy using SPECT/CT modality; these events were carried out in 2008 and 2009, and took part in the session on SPECT/CT in bone scintigraphy during the SFMN's 2010 winter seminar "Multimodality Imaging".
In 2009, the SFMN asked him to organize the first Assessment of Professional Practice (Evaluation des Pratiques Professionnelles - EPP) in bone scintigraphy.
In August 2009, Dr. Paycha was appointed chairman of the SFMN Committee for the Procedure Guidelines on Bone Scintigraphy.
Dr. Paycha was the Chairman of the 2010 Scientific Committee of the 6th Edition of the course "Bone Metastases", organized by the Francophone European Group for the Study of Bone Metastases (GEMO).
He also teaches bone scintigraphy in 4 university-level courses (Diplômes d'Université - DU): Imaging in Oncology (bone metastases), Musculo-Skeletal cross-sectional imaging, Sports Medicine (bone & joint damage), and Onco-Rheumatology.
The speaker has also regularly intervened -each year since 2003- in the CME sessions dedicated to bone scintigraphy during the European Congress of Nuclear Medicine (EANM).
Dr. Paycha was appointed Chairman of the newly created EANM Bone & Joint Committee by Professor Fred Verzijlbergen, EANM President, in November 2011. His term ended in December, 2019.
He is the co-author of the chapter "Musculoskeletal System" of the booklet on the Appropriate Use of Medical Imaging Exams Guidelines by French Health Care Professionals, 1st Edition, 2005.
Dr. Paycha coordinated the update of EANM Procedure Guidelines on Bone Scintigraphy.
Van den Wyngaert T, Strobel K, Kampen WU, Kuwert T, van der Bruggen W, Mohan HK, Gnanasegaran G, Delgado-Bolton R, Weber WA, Beheshti M, Langsteger W, Giammarile F, Mottaghy FM, Paycha F. The EANM practice guidelines for bone scintigraphy. Eur J Nucl Med Mol Imaging; 43 (9): 1723-38.
Published in open access: https://www.ncbi.nlm.nih.gov/pubmed/27262701
Dr. Paycha has been the author or co-author of 84 MEDLINE or Excerpta Medica indexed scientific articles and 18 book chapters dedicated to bone scintigraphy.
Dr. Paycha is referee for the European Journal of Nuclear Medicine and Molecular Imaging, the European Journal of Nuclear Medicine and Hybrid Imaging, the Journal of Nuclear Medicine, the Journal of Nuclear Medicine Technology, European Radiology, the British Journal of Radiology, and la Revue de Médecine Nucléaire.